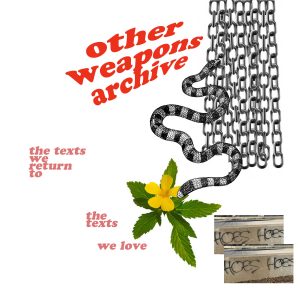 This speculative essay could be seen as CWN's lit debut. We respect their resolve to never wait to be told how we can live our fantasies, how we can hold our bodies in new ways. In this text we get a window into the world we are building as we organize for our autonomy. Take a look at the rest of Pinko #1 on their website.
Read
The Tricking Hour
by Saint Agatha/ Irene Silt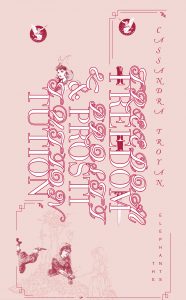 Freedom & Prostitution moves through many landscapes, voices, characters, and motifs to explore entrenched connections between histories of gendered violence, and the struggles against it. Whether it is militaristic, imperialistic, or carceral in nature, the violence women face in sex work or their intimate relationships, are intrinsically linked by the force of capitalism and its capacity to shape and impoverish everyday life. Looking specifically at the case of Gary Ridgway, or the "Green River Killer" who murdered over 49 prostitutes during the 80s in the Pacific Northwest, and the response by sex workers, which influences and inspires the various moments of resistance embedded within the text.
Within this text, the notion of freedom means liberation and autonomy. The dream of a world without work, without money, without gender, while imagining forms of survival now for those who often have little to no choices, refuse to submit to the demands of tedious underpaid or unwaged labor, an abusive partner, or seek a life beyond work. Sex work is not a "better" type of labor, but a proposal for its abolition.
Rather than further marginalize sex workers by viewing their lives and deaths as either a site of titillation or disgust, Freedom & Prostitution looks at the freedom that sex work can allow, while addressing that the dangers sex workers face are not necessarily inherent to sex work, but to the violence of capital and the deeply ingrained misogyny and racism in the world today. The sex worker is not a person to be pitied, but another radical figure pursuing revolution through the collective movement of dissent as a means of re-constructing another history, and hopefully a future with freedom for us all.
Review by Rachel Rabbit White / Review by Marina Scott
Here we understand the legendary projects of Sylvia Rivera, Marsha P. Johnson, and the Street Transvestite Action Revolutionaries (opening houses for trans kids on the street, hustling for rent and for raising funds for the radical wing of Gay Liberation) as regular practices among the informal networks of queens and hustlers turning tricks and defending each other from violence in many urban areas across the United States. We extend gratitude to archival projects in the vein of this zine.
PMS
Power Makes us Sick (PMS) is a creative research project focusing on autonomous health care practices and networks from a feminist perspective. We like their concept of "placeless solidarity" and the motivation to develop free tools of solidarity, resistance, and sabotage.
This zine features the pro-festo of the Prostitutes War Group, an internationalist collective of anarchist revolutionary queer insurrectionist prostitutes. We are inspired by their maximalism, their resolve as anti-workerists, and dedication to total destruction of the fascistic capitalistic Shitstem. We advocate for the same.
Read / Print

Keep this zine on Stigma in your back pocket. Hand it to people who
This chapbook complicates the reader's relationship to narrative truth claims proffered by the institutional sites complicit in delivering "justice," such as the courtroom or the prison. Focusing on issues of gendered violence, rape, and sexual assault, it seeks to discover different forms for addressing harm while releasing those who are named by it. Their writing always makes us cry, feel full, less afraid but definitely more feared.
Buy / Read
Field guide to living w/ the earth
A pamphlet on finding wilderness everywhere, and then using it to fight the police.
20 Years of Failing Sex Workers
Thoroughly researched by those who have suffered from the Nordic Model the most, Swedish sex worker comrades reveal the violent and sobering truths of this supposedly "feminist" model. Compiled in response to the twenty-year anniversary of the "Swedish Sex Purchase Act" (1999), this is a crucial work to share with anyone who wants to speak to you about the supposed ills of prostitution without mentioning the violence of the state meted against those trying to survive.
Read
<3 of a Heartless World
By Maya Andrea Gonzalez and Cassandra Troyan
Prorate Confidant: Beyond Despoiled Innocence and Empowerment
By: Angustia Celeste (Angustia[at]riseup.net)
Angustia's essay on vulnerability, prison, consent, heteromonogamy and anarchists is the perfect sister piece to Luna Celeste's "Grin and Bare it all"; as the two were published together in a 2015 issue of the quarterly magazine
Rolling Thunder
. She is nuanced and uncompromisingly anarchist when reminding us that all our relationships, even those between a john and whore, offer potential toward social rupture. On the contrary, she argues, essentialist arguments for or against "empowerment" are beside the point interpersonally, and in social war.
The Racism of Decriminalization
By: Nada Zenith DeCat
The Belly of the World: A Note on Black Women's Labors
By: Saidiya Hartman
In this text Hartman articulates a Black abolitionist-feminist analysis of chattel and racial slavery's implications on the lives of Black women, reproductive labor, and the category of the proletariat worker. She traces the history of Black women's reproductive labor and modes of resistance under slavery to argue that "The agency of the slaves becomes legible as politics, rather than as crime or destruction, at the moment slaves are transformed into black workers and revolutionary masses fashioned along the lines of the insurgent proletariat." The grammars of the worker and the general strike cannot provide a narrative that encapsulates forms of care, intimacy, and kinship enacted as survival for black women. She demonstrates how a politics figured outside the category of the worker has only ever shown up as "monstrous" and criminal.
We turn to this text reveal how a path toward decriminalization propped up on the glorification of the category of the worker risks maintaining and consolidating anti-Black conceptions of cis-womanhood under racial capitalism. We understand how our refusal of innocence and affirmation of criminality is indebted to this legacy of Black feminist analysis of work and practices of resistance.
A Disgrace Reserved for Prostitutes: Complicity & the Beloved Community
By: Pluma Sumaq
This text brings forward a critique of liberal and white feminist perspectives on sex work and prostitution through the intersections of race, class, and gender deviance. Sumaq reflects on the material and psychic consequences stigma has for women of color, poor women, or trans women doing sex work. She writes "to create a language around and an image of a "Sex Worker" that is normalized and free of stigma did not seem very revolutionary to me. To me it said, "accept us because we are just like you." Well, what if we're not like you? What then will you do to us?"
Street Transvestite Action Revolution: Survival, Revolt, and Queer Antagonist Struggle
Interviews, conversations and statements from Sylvia Rivera and Marsha P. Johnson on STAR (the Street Transvestite Action Revolutionaries), the Stonewall Riots, and informal networks of trans and queer survival and liberation in the 60s and 70s. We are grateful for the the archival work Tourmaline has done to make Marsha P. Johnson's history and writings more widely accessible. (See Tourmaline's film "Happy Birthday, Marsha!"
here
)
Understanding the Complexities of Sex Trade/Work and Trafficking
by Emi Koyama
Buy